It's less than a month away, but the ol' round & red one is coming to town yet again, and he's bringing lower energy bills, greater home comfort, and improved curb appeal. But, there's a catch….you have to ask for it!
What's on your home improvement Christmas list this holiday season? If you need some ideas, we here at Titan have a few good ideas!
Remember, investments in your home, like new windows, are simply that...investments. When we choose to make improvements in the way our homes operate, we see returns on this investment in multiple areas, such as:
Greater overall comfort through more consistent temperature
Reduced internal moisture content (humidity is BAD, more on this in future articles)
Lower energy bills resulting in greater annual savings
Improved curb appeal leading to potentially greater home value
Increased market value due to the investment itself
Should we stop there? Ok, but this conversation starts with windows.
While our name, "Titan Siding & Roofing," may not mention it, window installations are another great service that we have to offer to you, the esteemed homeowner.
We are blessed to live in a city with a rich, diverse, architectural history that sees anything from ornate, Victorian wooden framed windows to state of the art, high-efficiency vinyl windows. Of course, the former is a better candidate for a window installation, but regardless, understanding the impact on a home visually, financially, and from a comfort standpoint is something fun to explore. The benefits however, are a serious matter.
Vinylmax, one of the top providers in our area and a partner we are proud to work with, does a wonderful job speaking to one of the best reasons for considering a new window installation. That reason, is energy efficiency.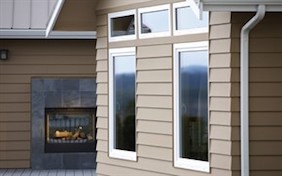 We know, we know...it's sort of a catch phrase right? Energy efficiency. Not quite.
Energy efficiency is a bit of an operating-in-the-background idea, the shows its face in the reactions of our guests when they compliment on how cozy and comfortable our home is. Even more, the savings that appear in the energy bills are a welcome relief to the question of, "To window...or not to window."
What about how the windows change the look and feel of a home, inside and out? Our partners at Simonton Windows do a fantastic job showing the beauty and options available to our window customers by providing a visual breakdown of their offerings on their website.
Dramatic space changing is another one of the huge benefits that windows can provide, and what better way to show it than by highlighting the look after an install?
Where does it all start? A free estimate, of course!
We'd love to hear from you and are excited to work with you to provide a professional and expert recommendation on how to transform your home with new windows. We look forward to hearing from you!
[contact-form-7 id="4417" title="Blog Contact form"]