We don't usually like to brag or toot our own horn, but….Toot – Toot!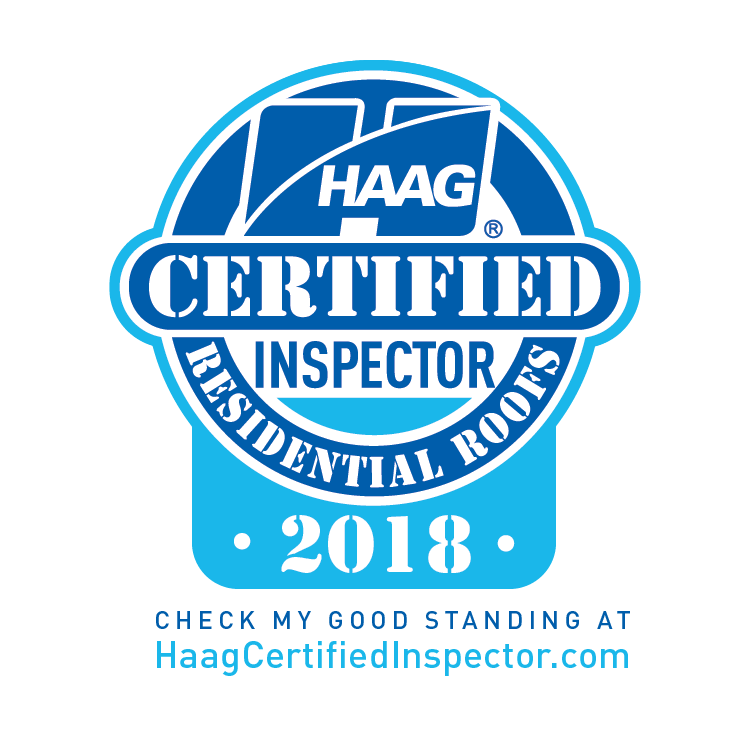 Titan Siding and Roofing has achieved – yet again – HAAG Certification status for 2018, passing all the rigorous testing and education for the certification!

In the roofing and insurance industries, the phrase "Haag Certified" carries a lot of weight. It indicates that we can effectively and efficiently inspect and assess damage. Our inspection report conclusions have a deeper level of credibility: Our Certification training serves as the extra authority we need to fight for you on insurance claims and bogus inspection findings by less-than-reputable roofing contractors.
Ultimately, with the damage assessment techniques gained in our Certification training and testing increases our value as an inspector to all of our customers. Other inspectors lack the skills and knowledge we've gained by passing courses developed and taught by practicing forensic engineers. Think of it as "C.S.I.: Roofing". We get into the nitty gritty of your home's roofing health and materials to get the science behind the structure.
In order to become certified, Titan participated and tested in an intensive course covering residential roofing inspections and damage. These courses combined damage assessment training with comprehensive testing to ensure proficiency.
The Haag Certified Inspector – Residential Roofs program is designed to make us highly proficient with all major types of residential (steep-slope) roofs. We learned how hail and wind interact with roofing, inspection safety techniques, roof area calculations, and applicable codes. We also gained comprehensive understanding of manufacture, installation, weathering, hail damage, wind damage, maintenance, mechanical damage, and repair costs for each major roofing type — composition, wood shingle/shake, concrete and clay tile, asbestos, fiber cement, and various synthetic, slate, and metal roofing types. Real-world case studies made the information vivid and memorable. What we learned from our classes and testing will allow us to apply the industries best and latest technology and know-how to roof replacement and repair. With research from Oak Ridge National Laboratory ~ www.ornl.gov and the US Army Corps of Engineers (USACE) ~ www.crrel.usace.army.mil we had some of the most up to date and cutting edge info at our disposal. You gotta admit: training by the hands of the US Army Corps is kinda cool.
It's common sense: building materials don't last forever. Throughout a product's life cycle, its ability to keep you dry and insulated can be affected in a variety of ways. The natural process of weathering and aging can be accelerated by a number of factors: > problems during manufacturing > design issues or errors during installation > the damaging effects of hail and wind or other non-natural (mechanical) forces.
While these issues are very different in origin, on the surface they can look quite similar. Determining the true cause of an issue with confidence requires advanced knowledge and thorough investigation techniques. This is why Haag Certification is so valuable. Haag Certified Inspectors are not beginners in the field. They are industry pros who have fine-tuned their inspection skills to find damage where it exists.
Not only must students meet prerequisites to attend, but they receive three days of direct and intensive training from seasoned Haag Engineers. (Haag's course developers and teachers draw on Haag's long history as a leader in the field of forensic engineering. Course instructors have over 300 years of combined field experience and have authored numerous industry-leading reports and researched studies on damage assessment.)
To earn their designation as Haag Certified Inspectors, students must prove an in-depth understanding of advanced damage assessment techniques and philosophies by passing a comprehensive final exam. Students maintain active status as Certified Inspectors by requalifying through testing on an annual basis.
So what does this mean for you?
Well, you get the industry's best at your disposal to provide inspections, repair, and replacements to all aspects of your home's roofing and siding. Peace of mind that you have certified professionals working on your biggest investment. And, the knowledge that there is no better trusted or respected roofing contractor around to provide the areas best in roofing services.
Simply put: Haag Certified Inspectors are tested professionals who possess the resources to assess damage with confidence. We would love the chance to show you why Titan Siding and Roofing is Cincinnati and Dayton's most trusted and reliable roofing contractor. Give us a call at 513-755-7663 and schedule your free inspection!