Titan Siding And Roofing Gets A Pat On The Back – And You Get The Industries Top Rated Roofers!
Titan has gone and done it again – After proving themselves as Cincinnati and Dayton's best commercial and residential roofing company, Owens Corning has taken notice. A distinction like this is worth noting, as it relays to you the homeowner just how skilled, qualified, and professional a roofing company is. Through a rigorous checklist and stringent qualification, only a select few roofing and siding companies are given this title, and Titan Siding and Roofing is the best roofing company certified and proven in the Cincinnati area!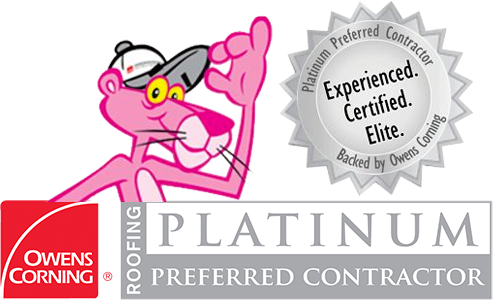 Owens Corning began making shingles in the 60s, and they're now one of the largest and most reputable roofing material manufacturers in the U.S. and around the globe. The company recognizes that installation has a huge impact on how well their shingles and other roofing products perform, so they award Platinum Preferred Contractor certification to an elite group of roofing contractors who demonstrate superior installation skills.
Owens Corning doesn't invite every roofer to join their network of Platinum Preferred Contractors. In fact, only about 1% of roofers are hand-selected for the distinction. In order to be accepted, a contractor must meet the company's rigorous qualification guidelines that include:
Following all state and local requirements for licensing.
Carrying a minimum of $1,000,000 in general liability insurance coverage.
Being in good standing with the Better Business Bureau.
Having a proven commitment to ongoing training, outstanding workmanship and customer service.
Having a clear history with no liens or judgments.
Undergoing a credit check and being financially solvent.
Operating under their business name for at least 3 years.
Let our awards and accomplishments only further voice the peace of mind you feel when Titan Siding And Roofing does a free estimate on your home for roof repairs or replacement. Being the best roofers in the area, we know  what it takes to do the job right the first time, on time, and affordably. Our crews, materials, and guarantees all back us up – and so does the nations most trusted supplier of quality roofing materials!
See for yourself in our gallery, and then give us a call at 513-755-7663 or fill out our contact form here. We would love to show you just how amazing your new roof can be!