Why Choose a HAAG Certified Roofer?
With so many roofing contractors out there, a solid definition of a qualified company can be hard to find. "Should I find a roofer with industry awards? Do they need to be certified in something? If so, what can a roofer be certified in? What does certification for a roofer even mean?"Researching a trusted and reliable roofing contractor can be confusing and time consuming. Take the guesswork out of finding your preferred roofing contractor – Titan Siding and Roofing is Cincinnati's HAAG Certified Inspector and Roofing Specialists.
What Is A HAAG Certification?
Haag Engineering, a forensic engineering firm that specializes in storm damage to roofs was established by by Walter G. Haag, a civil engineer himself in 1924. They examines structures materials and components to determine why these fail or function undesirably. As part of their research, they worked on methods to assess roof damage –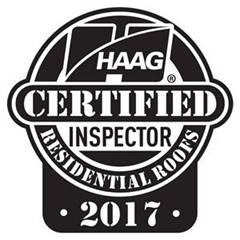 be it from storms, installation, manufacturing imperfections, or mechanical related defects.
This gained knowledge is the foundation for the HAAG Certified Roof Inspection Program. The training and testing program educated roofing specialists on how to apply forensic engineering principles and practices to roofing systems. Titan has proven themselves as leaders in the industry, and we welcome you to give us a call about any questions you may have about your home's roof. We do FREE inspections to ensure proper diagnostics and repair. Send us with a quick email or call Titan at 513-755-ROOF (513-755-7663)
Why Is The HAAG Certification So Special?
There are specific benchmarks and certifications that only the roofing specialists can earn in their field, and the HAAG Certification is one of the most distinguished. Insurance companies all over recognize the HAAG Certification, and they value this to represent that a true roofing expert completed the inspection on your roof. Multiple facets of roof repair and installation are covered during the training, giving Cincinnati's roofers Titan a breadth of intensive training across multiple topics. Yearly, Titan has to recertify – meaning we are constantly in touch with the newest information available to certified inspectors. With a free inspection from Titan, you can be sure you're getting cutting edge technology backing the restoration of your home's roof.
Some of the topics covered in the rigorous training Titan completed are:
Inspection safety techniques

Roof inspection techniques

Roof area calculations

Roof repair versus replacement analysis

Damage assessment to all types of roofs based on scientific techniques

Manufacturing, installation, maintenance , mechanical, storm and weathering factors

Weather impact and damage on roofing
Proper inspection techniques lead to proper repairs and installations. Titan is your go to expert!
You can schedule a inspection today from our expert roofers on our Contact Us page, or by calling 513-577-ROOF
The Mark Of  A True Professional – Not Just Any Roofer Gets Certified!
HAAG Certification shows that a contractor is a true authority in the business. Titan has the industry knowledge and know-how and the credentials to back it up. Known as Cincinnati's most trusted and reliable roofing company, you can depend on Titan to provide first class service, before – during – and after your roof work is complete.  We assess all types of roofs and we are well versed in roof area designs, codes, industry standards and weather characteristics. We also assist in the insurance claim process, ensuring the claims go through thoroughly and smoothly.
Your home is your most valuable asset. Locally owned and operated out of West Chester, our  main objective is satisfaction of the customer.  Our philosophy is based upon identifying the problem  and going above and beyond the norm to finish the job right for you, while exceeding every expectation you may have. Gaining and retaining customer loyalty is what we strive for.  Always a free inspection, we guarantee professionalism, superior products, competitive pricing and first class workmanship. We can also discuss financing options with you! Call Titan today at 513-755-ROOF (513-755-7663) to schedule your free, no obligation inspection today. Your home is your biggest investment – let us show you the level of professionalism and expertise we have provided for so many other customers.