Ever hear the joke told when someone asks "What should I pack when visiting Cincinnati?" They're told to pack everything – A parka, a raincoat, flip flops, gloves, shorts, snorkel, sled, and windbreaker. If you don't like the weather in Cincinnati  – Wait a few minutes. It will change!
We are fortunate enough to get all four seasons in the tristate area. Our springs are robust with April showers and May flowers. Summers can be blistering hot with humidity and stretches of dry, rainless stretches. Fall gives us full foliage and crisp weather. Tristate winters are notorious for dumping feet upon feet of snow, tornadic frigid winds, and thick ice that can knock out power for days. While having all these seasons can be enjoyable to look at, it can take quite the toll on your home's roofing and siding. Over the next few weeks we are going to take a look at how all four seasons can negatively impact your roof – and how to prevent problems and restore current damage.
Spring time brings a sense of renewal. You're out from being cooped up inside the home and ready to tackle any home improvement jobs you thought about of over the winter. While the temperatures start to rise, the weather is still unpredictable. Heavy wind storms can peel back off loose shingles, bring down gutters and pull off siding. And since Mother Nature is fickle, it's not unheard of to get a late winter storm where a day prior was 60 degrees.
Asphalt shingles, the most popular type among homeowners, suffers the greatest damage under heavy winds. Their light texture and weight allows them to sail effortlessly off your roof in a storm, leaving the bare structure open to the ongoing elements. With freshly exposed damage, an early spring snowstorm can reveal weaknesses in your roof – letting in water and debris. Over time this liquid damage can rot the very structure holding your roof up, creating repairs well above and beyond what normal maintenance would cost. Water leaks from wind and hail damage can pose a threat to your electrical systems, insulation, and interior.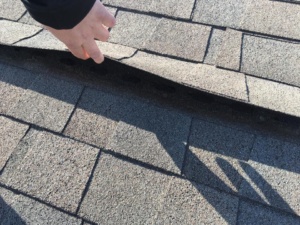 The only way to know before it is too late is with a roof inspection. Titan Siding and Roofing is the area's best roofing inspection and repair specialists. You can schedule a free inspection with Titan by calling 513-755-ROOF today. Preventative inspections and regular maintenance will keep your home in top shape, avoiding thousands in repairs in the future.
Titan Siding is a HAAG Certified Inspector, meaning Titan adheres to a truly forensic level approach to inspecting your roof for damage, changes, and needs. No detail is overlooked, and honest suggestions on repair are given. Titan wants to ensure your biggest investment is covered – literally! – and will provide a quick, no nonsense inspection of your home's roof and exterior. titan will provide a report with feedback on damage from storms and deterioration from age, as well as discuss your options for repair or replacement. Additionally, if no current damage is found, Titan will provide maintenance tips to keep your roof in it's best shape for years to come. Give Titan a call at 513-755-ROOF to schedule your free inspection by our HAAG Certified Inspectors. Your home, and checkbook, will thank you!
Ensuring you have the very best in materials on your home is the first line of defense in arming your roof against the elements. Skimping on quality shingles and supplies will cost you greatly in the long run. Titan has partnered with Owens Corning as a Preferred Contractor, promising only the best in top of the line technology and materials. Owens Corning has the industry's leading research on high grade roofing materials, guaranteeing that you will have your roof intact adding value and looks for years to come.
Don't wait until you SEE the water seeping in from your leaky roof! As the seasons progress, so will the damage to your roof. Give Titan a call to discuss a free inspection and tips for maintaining the barrier between your biggest investment and the Forces of Nature above. You can trust Titan!