As with any remodeling technology, housing siding has evolved to offer many options to homeowners to fit budget and project needs. Depending on your goals as a homeowner, Titans' siding options offer a full spectrum of products to allow for a final product that reflects your vision for your home. After all, you'll be spending your life here, and so major projects like an exterior repair or remodel should be something that allows for maximum enjoyment and visual curb appeal alike.
Most consumers have heard of vinyl siding, but have you ever heard of fiber cement siding? Both are viable options for covering and protecting the exterior home surface, and so here we bring you the most relevant information for each material and manufacturer to make the first of many decisions as simple and easy as possible:
Vinyl Siding
If you're a homeowner, then you're familiar with vinyl siding, as it is one of the most common exterior coverings when it comes to home construction. Technology in this material has evolved to include thermal diffusion, stronger construction, ultraviolet protection among others with vinyl remaining an affordable and viable option for construction and remodeling.
KP Vinyl
Placing the highest value on curb appeal while also stressing an importance on personal style, KP is a long-time siding industry manufacturer with eighteen plants and 2200 employees in North America. Their emphasis on quality is what they're known for while also offering a large range of styles and colors to allow homeowners to find exactly what they're looking for.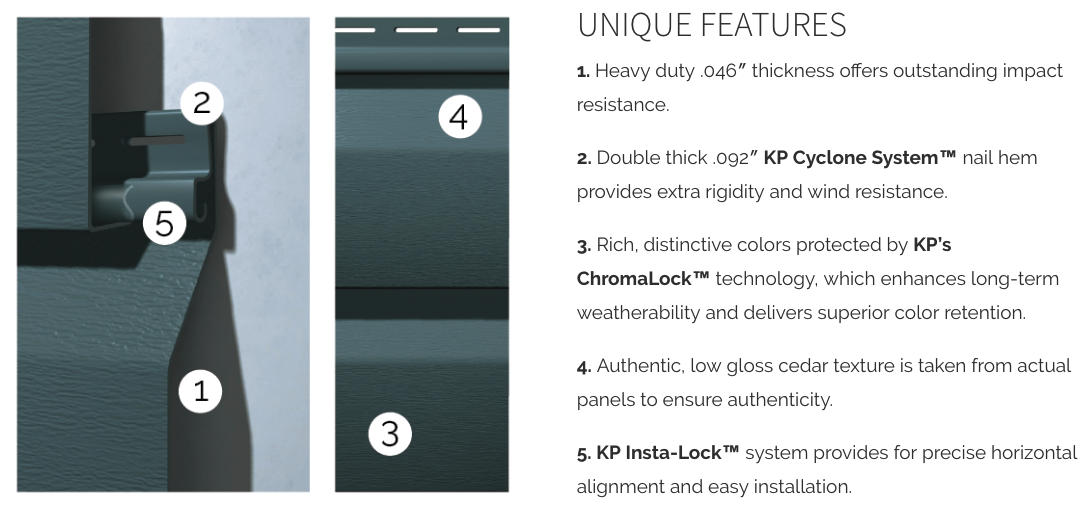 They manufacture all of their product offerings, meaning buyers can rest assured that all products contain the latest technologies highest quality construction possible. Their full spectrum of textures and colors is available on their website
Mastic Vinyl
Offering 50 years of engineering and research into continually improving their product, Mastic offers a variety of siding styles that include: insulated, lap, vertical, shingles, soffit, as well as designer accents. If you're unfamiliar with these differences, spend some time on their website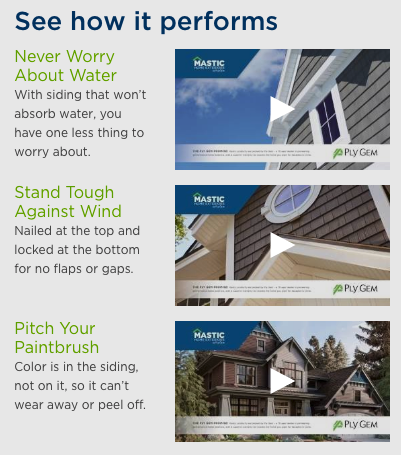 Mastic products are backed by Ply Gem — a 70-year leader in pioneering performance home exteriors, with a superior warranty for exactly the home you want for decades to come.
Once installed, Mastic Performance Vinyl Siding never needs to be painted or re-sealed, saving you time and money, year after year.
Few home improvement projects offer a better payoff than an exterior update, both short and long term. New Mastic Performance Vinyl Siding can turn heads now and raise your asking price at resale time.
When we do our job right, you won't see it. You won't see aging or fading. You won't see damage from wind or moisture. And you won't see the need to repaint or re-caulk anything. Ply Gem has spent decades perfecting the science behind our siding, so you can enjoy it for years to come—without giving it a second thought.
Fiber Cement
You may be less familiar with fiber cement siding, but this alternative material, also offered by Titan, carries some additional benefits that make it beyond worth considering.
Additional resistance to warping and a no-melt guarantee, along with increased ease for painting and a unique look and feel are just to name a few. It's the things you don't think about happening – that always do!
Fiber cement siding and trim combine beautiful design with superior performance. Enjoy the warm, natural character of wood with the durability of fiber cement. Fiber cement siding comes in a variety of looks and textures, all of which are Engineered for Climate. That means the siding for your home was made specifically for your environment. In fact, we are so sure about how well the siding will perform, HardiePlank lap siding comes with a 30-year non-prorated, transferable, limited warranty – one of the strongest warranty ever.
James Hardie
As noted on their website, Hardie products are designated as non-combustible and are five times thicker than vinyl, giving them increased durability and resistance to weather and the elements. All of their products are back with the Good Housekeeping Seal of approval, which all utilize Hardie's proprietary technologies that make their products a great option for homebuyers and owners looking for the best in exterior home coverage.



The many different possibilities for design, material, and manufacturer can be a daunting task for any consumer. Titan is the area-expert to help make your build, remodel, or repair less so. Use our contact form to get a free consult and estimate and find out our difference.