A roof is a roof, right? Well, maybe to some. But certainly not to us. As Cincinnati's premier roofing contractors, we understand the vast difference between commercial and residential roofing systems. We understand that this knowledge is not something everyone needs. But if you are interested in learning about some of the key differences, you are in luck. In today's blog, we at Titan would like to offer a general guide to the key differences.
If you are in need of commercial or residential roofing services, contact one of the best roofing companies in Cincinnati and Dayton area —Titan Siding and Roofing. We not only offer an array of roofing services, but we also offer our clients claims assistance.
One thing commercial and residential roofing systems have in common is that when damage occurs, repairs and replacements can be expensive. And to truly remedy the situation—and get a new roof that you can depend upon for years and years—it is essential to not only have industry-leading materials but also a crew of roofing contractors who have the experience and expertise to install your new roof properly. These are some things that both types of roofing systems have in common. Now let's get into some of the key differences.
Roofing Materials
The materials used on residential and commercial roofs differ greatly, both in their cost and longevity. These differences can become even more pronounced when you take into account any variance in weather conditions and settings. For homes, the most common type of roofing is shingles, tiles, and slate. For commercial properties, on the other hand, the roofs typically consist of a single-ply membrane or a modified bitumen. As you might already have guessed, the reason for these materials is because they can cover a large surface area—in the most efficient, affordable, and long-lasting way possible. Metal roofing is another common type of roofing material for both homes and large commercial properties.
Roofing Design
You don't have to be an architect or engineer to notice the differences between commercial buildings and residential homes. One of the most glaringly apparent differences is that commercial roofs tend to not be as steep or pitched. The slops on residential roofing systems not only enhance curb appeal, but they also put less pressure on the structure.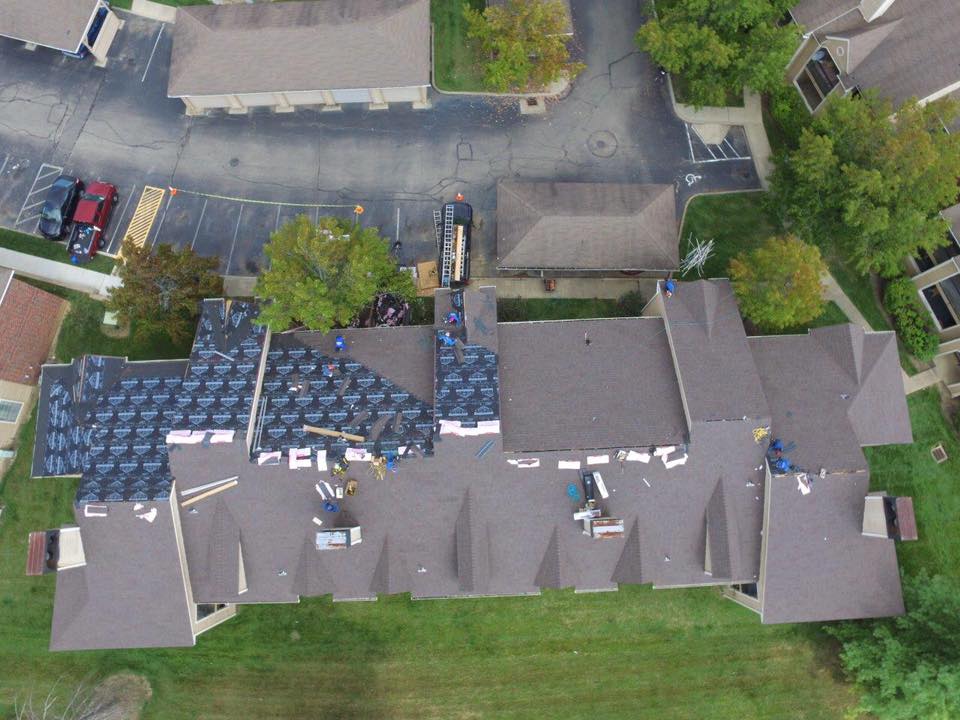 Because they are often much larger, commercial roofing systems tend to have a slow slope or an entirely flat roof. When installing these flat roofs, there are significantly more factors (than with residential roofs) to consider. Such factors include prospective repairs and the weight of rooftop equipment. Compare this to residential roofs, which tend to cover less area and have fewer considerations, and you see that residential roofs are much easier to maintain, repair, and replace
Roofing Installation
While all installations require an experienced roofing contractor, there are a number of key differences between the two roofing systems. Perhaps the most apparent and important to clients is the amount of time it takes to install the different types of roofs. Depending on the size, installing a new commercial roofing system can take weeks, whereas a new residential roof replacement can be done in a few days.
As you can see, not all roofs are the same—in short: residential roofs tend to be easier to install, maintain, and are more affordable. At Titan Siding and Roofing , it would be an understatement to say that we know that not all roofs are the same. Beyond, of course, understanding all the differences in materials, techniques, and equipment, we understand that all of our clients are different, and should, therefore, not be treated the same. This is why we take pride in working closely with our clients to tailor the best possible roofing solution for their residential or commercial property.
Looking for one of the finest roofing companies in Cincinnati to handle your roofing services? Well, you're in luck, we've got our number right here: 513-755-7663! We can handle all of your commercial roof services—low slope repairs, replacements, and coatings, as well as metal roofing and more! And we can also take care of all of your residential roofing services—shingle repair and replacement, roof coatings, as well as nearly all general residential roof repairs!