Roofing Damage: To Repair or To Replace? As we get closer and closer to spring time, it's time to start thinking about outdoor projects. Your roof is one of the most important features of your home and spring is a great time to check if your roof needs any maintenance work. Most homeowners quickly assume they patch a few leaks here and there upon spotting a leak in their ceiling. However, a leak is not necessarily a determining factor of extensive roofing damage. What exactly determines if you need a simple repair like a patch job or an entirely  new roof? Have a Certified Pro from Titan check your roof for one of these warning signs:

Curling & Buckling Roofing Shingles
If you notice that your shingles are curled or buckling, this is a sign that you may be in need of a brand new roof. If you take a look at the slopes of your home that have direct sunlight and you see that the shingles are curling, it could mean the shingles are too old and past their life expectancy. Just because they are attached doesn't mean they are doing their job to the their original specifications. Using the industry's best materials like Owens Corning materials can provide years and years of protection and good looks on your home.

Broken Or Missing Roofing Shingles
Broken and missing shingles are a major sign that your roof is failing. They inhibit a roof system's ability to get rid of water and can let water in. Damaged shingles can be caused by excessive wind such as a severe storm. Like holes in a bucket, missing shingles are direct lines for moisture to seep in and create problems. If left unattended, you are looking at costly repairs and if ignored long enough – total roof replacement in addition to structural issues.

Missing Granules
Granules can wash away over time due to the following:
Poorly placed downspouts
Lack of eavestrough
Valley drainage on a second story that can cause the effect of a waterfall
Aging of the roof
Physical damage
Be sure to check your gutters for granules. Roofs typically lose more granules towards the end of their life cycle. The loss of granules will accelerate aging and shingle decay. Granules look like teeny little pebbles or sand, depending on the color of your roof. Think of the granules as the first defense of the shingle – Mother Nature hits these first!

Age Of Your Roof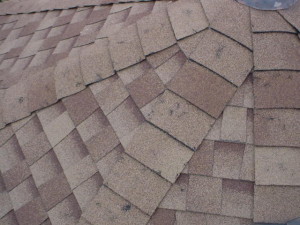 Simply check the age of your existing shingle roof. Roofing experts suggest that a typical roof has a life span of 20-25 years. It's important to take into account if the roof you have was installed over another layer and if it's older than twenty years. If your roof is too old, it may be time for a completely new roof to be installed. A certified HAAG Inspector can determine the age of the roof quickly and easily.
Also, if you're not the original owner of the home and have no had an inspection on the roof since purchasing it, you could be in for a big surprise when you find out just what is under there. It's better to know than be in for costly repairs!

Flashings Are Damaged
Examine the flashings carefully. They are typically located around skylights, valleys, rakes, eaves, wall details and chimneys. They have the ability to lift and separate because of general expansion and contraction which causes fasteners to become loose. Your house breathes and moves as the seasons change, and these fluctuations in temperature can cause shrinkage that will leave you exposed. Your flashings may be in need of a replacement.
If any of these sound or look familiar, you may be in need of a new roof. You can eye it yourself and make the assumption, but you could potentially be overlooking serious damage that will cause harm to your homes integrity. Call Titan at 513-755-7663 (ROOF) to schedule a free, no obligation inspection and find out just what you could be up against this year.