A registered Owens Corning warranty on the shingles of your roof will save you hundreds in the long run!
Having your roof installed by an Owens Corning™ Roofing Preferred Contractor or an Owens Corning™ Roofing Platinum Preferred Contractor can have a big impact on your warranty coverage. Don't let just any contractor come out and sell you on a good looking shingle. Aesthetics are important, but what good is a pretty looking shingle when it's blown off your home? Owens Corning and Titan have partnered up to provide you the best materials in the business backed by an industry unheard of guarantee. Call Titan today for more information and a free estimate!
Warranties vary between the types of shingles and the work done on the home. Owens Corning guarantees anywhere from 5 years to Lifetime on the shingles of your home. Owens Corning shingles and materials can withstand up to 130 MPH winds for over 15 years! Material defects are always covered, and labor is covered during a protection period as well. Some of the warranties are covered within the cost of the shingles, making the long term savings even more significant. This piece of mind is priceless when shopping for materials and a contractor for your roof.
Should you ever move from the home, the warranty on the shingles is transferable, adding yet another selling point to your home. A beautiful roof with a warrantied roof? That is hard to come by in the Cincinnati home buying market. This will set you apart from other homes listed for sale and add value to your home. Trust Titan to repair or replace your roof with the best materials and professional installation to add charm and value to your home. Cincinnati roofs taking a beating, and Cincinnati's best roofers know how to properly inspect and install a roof to cover your home for generations to come.
Have questions? Want a free inspection? contact us today!
Here are some examples and information on the different types of Owens Corning roofing shingles and roofing systems:
TruDefinition™ Duration® Shingles:
Limited Lifetime Warranty*, 130 MPH Wind Resistance Limited Warranty*, Algae Resistance Limited Warranty* and SureNail® Technology
TruDefinition Duration Shingles: are specially formulated to provide optimal contrast and dimension to your roof. TruDefinition Duration Shingles offer a truly unique and dramatic effect. SureNail® Technology features a tough, woven engineered reinforcing fabric that delivers consistent fastening during installation. The Triple Layer Protection™ of reinforcement occurs when the fabric overlays the common bond of the shingle laminate layers that offer excellent fastener holding power. Enhanced Tru-Bond sealant grips tightly to the engineered fabric nailing strip on the shingle below. Specially formulated, wide adhesive bands help keep shingle layers laminated together.
Limited Lifetime Warranty*, 110/130 MPH Wind Resistance Limited Warranty* and Algae Resistance Limited Warranty*
Oakridge® Shingles: have a warm and inviting look and are available in popular colors such as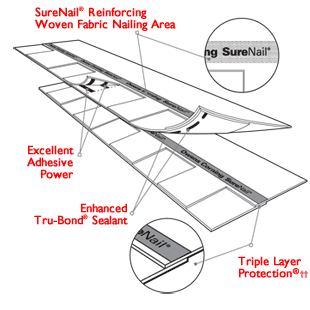 Estate Gray and Driftwood. Oakridge® Shingles provide a step up from traditional three-tab shingles. Oakridge® Artisan Colors are specially designed to provide a unique blend of artistry and craftsmanship that will give your home a look that is anything but ordinary. Every Oakridge® Artisan Color features greater contrast and color depth to add drama and curb appeal to your entire home.

Supreme® Shingles:
25-Year Limited Warranty*, 60-MPH Wind Resistance Limited Warranty*, the industry's highest Class A UL Fire Rating and Algae Resistance is also available on a regional basis.
Supreme® three-tab shingles are the smart choice when you need to balance curb appeal, weather resistance and value.
This is just a small selection of the shingles and materials that Titan Roofing has to offer.
Give Titan a call today at 513-755-ROOF or us here to schedule a free, no obligation inspection by our HAAG Certified inspectors. We;d love to tell you more about the Owens Corning line and the warranties they carry. You will not be disappointed with Titan!